Application Of Realistic Mathematics Education To The Problem Solving Ability Of Fraction Number Materials In Class Iv Elementary School
Evi Juliyani Esa Putri

Universitas Pendidikan Indonesia

Ernawulan Syaodih

Universitas Pendidikan Indonesia

Prana Dwija Iswara

Universitas Pendidikan Indonesia
Keywords:
Realistic Mathematics Education, Problem Solving Ability, Fractional Material
Abstract
The nature of learning mathematics in elementary schools is learning that challenges students. Challenging learning is certainly learning that can hone problem solving skills. One of the learning approaches that can bridge problem solving skills is the Realistic Mathematics Education. RME is an approach to learning mathematics that has the view that mathematics needs to be taught contextually. Seeing learning at school tends to be less related to everyday life. The teacher does not facilitate students in orienting contextual daily problems. The daily assessment learning outcomes of fourth grade students at SDN Mega Eltra are 70%, or as many as 12 students out of 17 students in total, still below the minimum completeness criteria. This type of research is classroom action research. The research subjects were students of grade IV (four) SD Negeri Mega Eltra, Kesambi District, Cirebon City, the data collection technique was using a test. From the results of the research that has been done, the problem-solving ability in the first cycle obtained from the test shows that the average value of the problem-solving ability test results is 60 with a percentage of 60% with an ability level of Fairly Able. And in cycle II the average value of problem solving ability is 85 with a percentage of 85% with the ability level Able. This shows that the application of RME can improve problem solving skills in fractional material.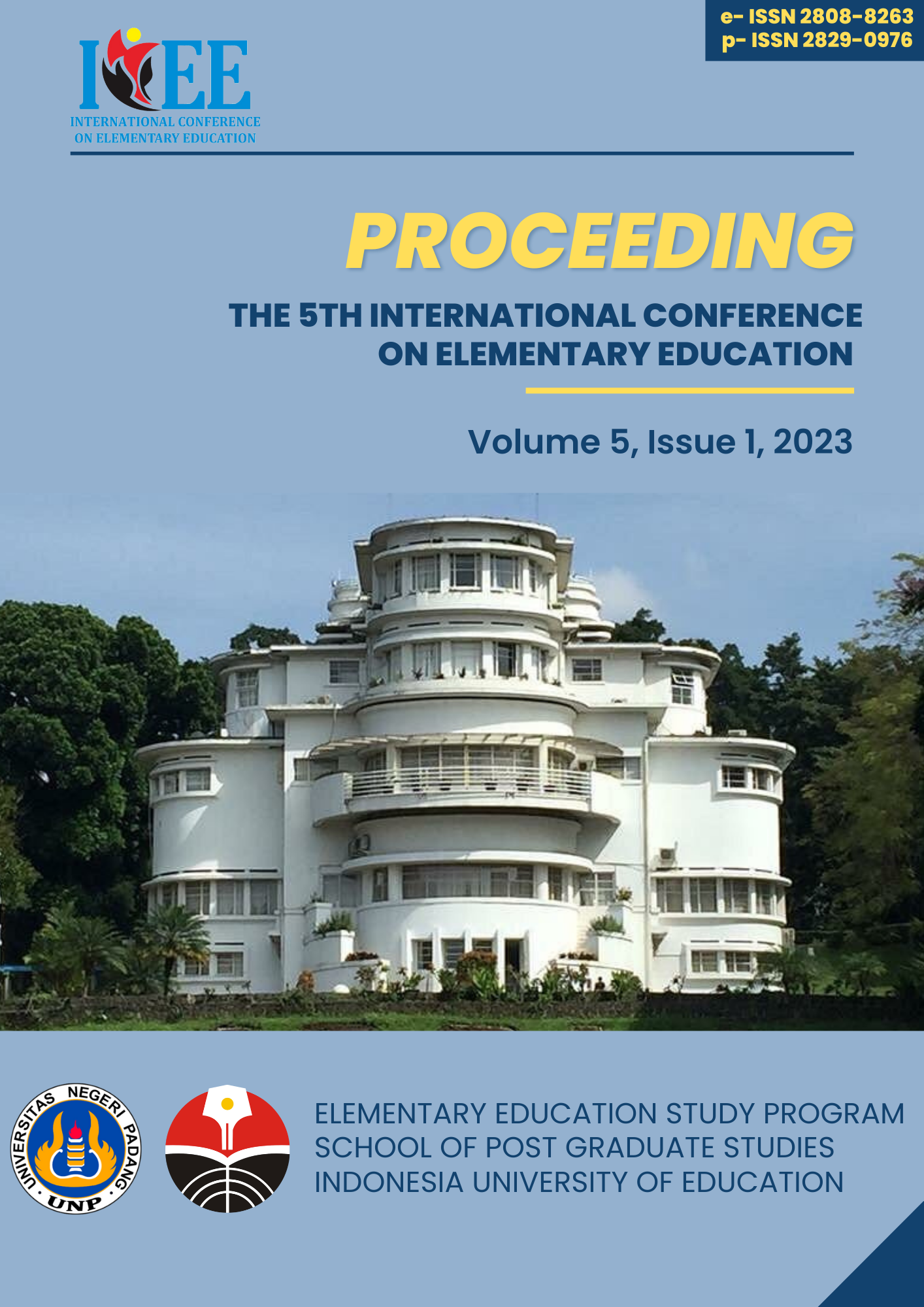 How to Cite
Evi Juliyani Esa Putri, Ernawulan Syaodih, & Prana Dwija Iswara. (2023). Application Of Realistic Mathematics Education To The Problem Solving Ability Of Fraction Number Materials In Class Iv Elementary School. International Conference on Elementary Education, 5(1), 191-198. Retrieved from http://proceedings2.upi.edu/index.php/icee/article/view/3107
Copyright (c) 2023 Evi Juliyani Esa Putri, Ernawulan Syaodih, Prana Dwija Iswara
This work is licensed under a Creative Commons Attribution 4.0 International License.