TPACK Component Analysis (Technology, Pedagogics, Content Knowledge) in Elementary School Teachers as a Framework for Teacher Competence in 21st-Century Learning
Rizki Fuji Handika

Pendidikan Dasar, Universitas Pendidikan Indonesia, Bandung, Indonesia

Mubiar Agustin

Pendidikan Dasar, Universitas Pendidikan Indonesia, Bandung, Indonesia

Gifari Jakawali

Pendidikan Dasar, Universitas Pendidikan Indonesia, Bandung, Indonesia
Keywords:
21st Century Learning, Teacher Professional Education Program, TPACK
Abstract
21st Century Learning requires teachers to learn that is adaptive to the challenges and needs of the times. TPACK is one type of knowledge that must be mastered by teachers in the 21st century. This study aims to analyze the components of TPACK for elementary school teachers. His research uses a descriptive quantitative approach. The sample used in this study were elementary school teachers who had participated in the Teacher Professional Education Program. This instrument was developed from previous research which has high validity and reliability. Collecting data using a questionnaire with a Likert scale. Data analysis used descriptive statistical analysis test. The results show the average value of the Technology Knowledge component is 3,15, Pedagogical Knowledge is 3,25, Content Knowledge is 3,20, Technological Content Knowledge is 3,35, Pedagogical Content Knowledge is 3,40, Technological Pedagogical Knowledge is 3,41 and Technological Pedagogical Content Knowledge is 3,50. All components are in a good category. TPCK has the lowest average value among other components. The teacher's ability to integrate all components is easy. There needs to be a balance between the knowledge aspects of technology, pedagogy, and content.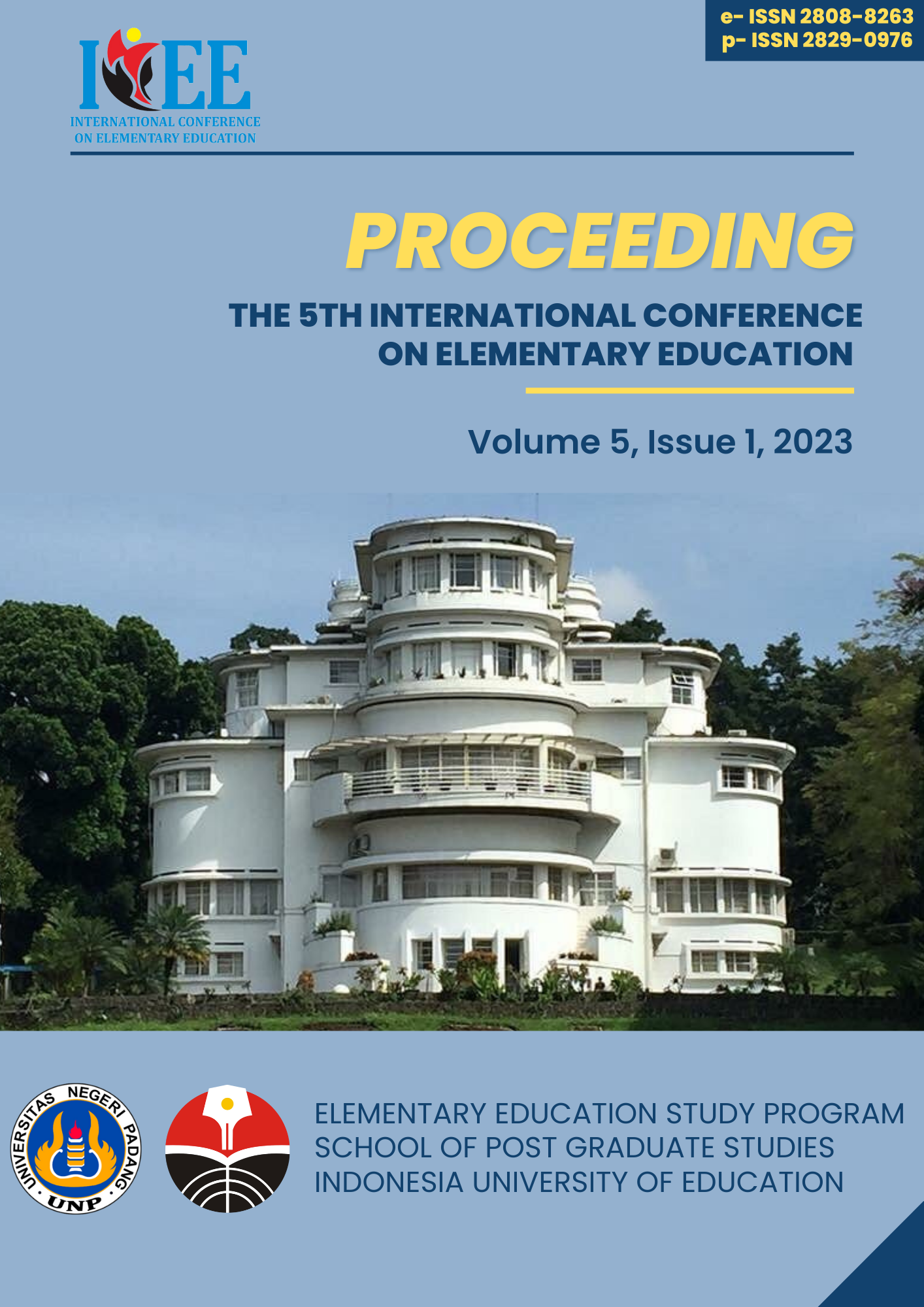 How to Cite
Rizki Fuji Handika, Mubiar Agustin, & Gifari Jakawali. (2023). TPACK Component Analysis (Technology, Pedagogics, Content Knowledge) in Elementary School Teachers as a Framework for Teacher Competence in 21st-Century Learning. International Conference on Elementary Education, 5(1), 545-551. Retrieved from http://proceedings2.upi.edu/index.php/icee/article/view/3171
Copyright (c) 2023 Rizki Fuji Handika, Mubiar Agustin, Gifari Jakawali
This work is licensed under a Creative Commons Attribution 4.0 International License.