Analysis Of The Montessori Method In Beginning Reading Skills Of Indonesian Subjects In Of Students Sd Negeri 1 Jatiwaringin
Ika Ayudya Purnama Sary

Basic Education Program, University of Education Indonesia, Bandung, Indonesia

Tatat Hartati

Basic Education Program, University of Education Indonesia, Bandung, Indonesia

Rony Wirachman

Basic Education Program, University of Education Indonesia, Bandung, Indonesia
Keywords:
Montessori method, Beginning reading skills, Elementary school students
Abstract
The Montessori method is a method in the realm of child development education and is formulated based on Montessori theory. This method emphasizes the activities that are raised by the child by emphasizing the process of adapting the child's learning environment according to the stage of development. Mastery of reading skills in schools is one of the language competencies that must be taught. This study aims to describe how the Montessori method improves beginning reading skills in SD Negeri 1 Jatiwaringin students. This research method uses descriptive qualitative with data collection techniques in the form of oral, written test results, interviews and direct observation. The Montessori method seeks to help students develop cognitive, psychomotor, and affective abilities in students, by enabling children to learn according to their level of development.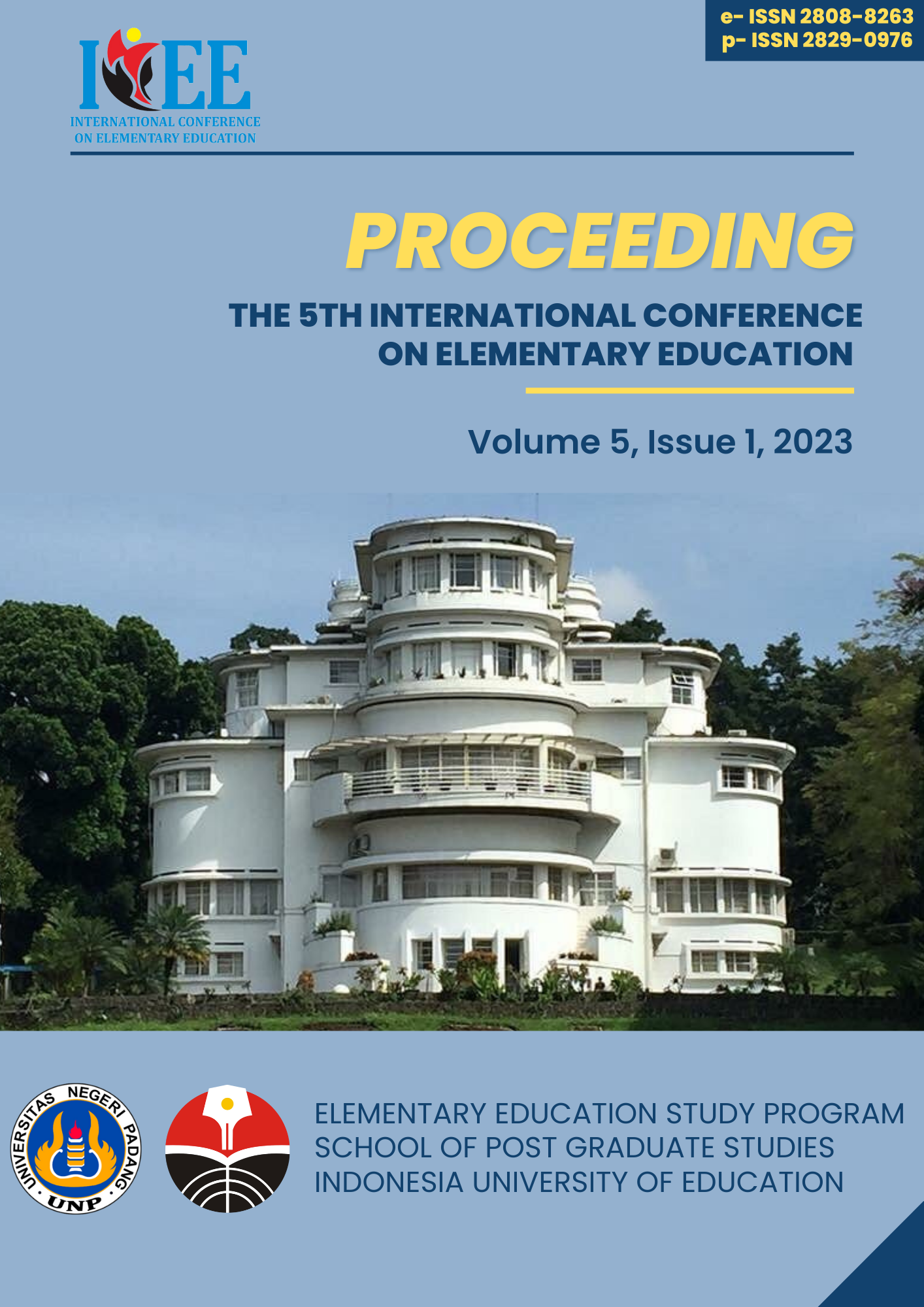 How to Cite
Ika Ayudya Purnama Sary, Tatat Hartati, & Rony Wirachman. (2023). Analysis Of The Montessori Method In Beginning Reading Skills Of Indonesian Subjects In Of Students Sd Negeri 1 Jatiwaringin. International Conference on Elementary Education, 5(1), 337-342. Retrieved from http://proceedings2.upi.edu/index.php/icee/article/view/3126
Copyright (c) 2023 Ika Ayudya Purnama Sary, Tatat Hartati, Rony Wirachman
This work is licensed under a Creative Commons Attribution 4.0 International License.