Identifying 21st-Century Skills In The "Kurikulum Merdeka" At The Elementary Level Numeracy Aspect: A Literature Review
Hilma Syahida

Universitas Pendidikan Indonesia

Laksmi Dewi

Universitas Pendidikan Indonesia
Keywords:
21stt-century skills, mathematics, numeracy, kurikulum merdeka
Abstract
21st-century skills become an inseparable part of a future life that is currently identical to or leads to society 5.0. To be able to become the next generation that is ready to face all future challenges, 21st-century skills are important to master. Mastery of 21st-century skills is an integral part of the curriculum designed by the government. Objective: This study aims to analyze the application of 21st-century skills in the aspect of numeracy which is identical to mathematics at the elementary level (stages A, B, and C). This research can be a reference for teachers in developing learning methods so that teachers provide learning experiences that train students in mastering 21st-century skills. Method: The research uses a literature review or document studies of Kurikulum Merdeka to analyze 21st-century skills in Learning Outcomes in mathematics at the elementary level. Findings: 21st-century skills are an essential part of mathematics because mathematics is not only about numbers and their operations but also how to understand discourse, take main ideas, and elaborate ideas and solutions, in other words, Mathematics has a close relationship with language skills or good literacy. Conclusion:  This study indicates that elementary school mathematics objectives and learning achievements at levels A, B, and C have included 21st-century skills. In this case, we need teachers who have competence in 21st-century skills so that students get a learning experience that leads to the achievement of 21st-century skills.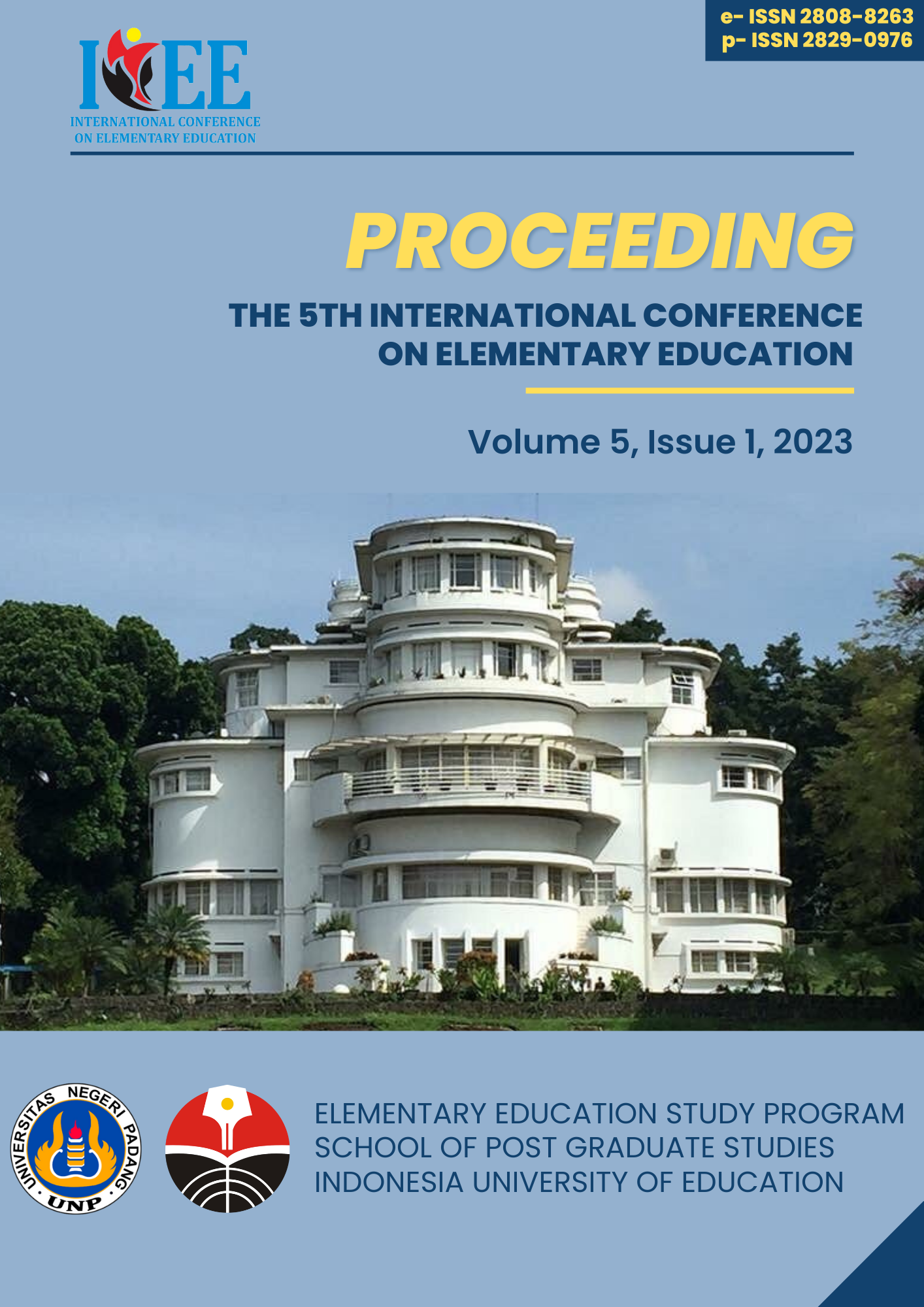 How to Cite
Hilma Syahida, & Laksmi Dewi. (2023). Identifying 21st-Century Skills In The "Kurikulum Merdeka" At The Elementary Level Numeracy Aspect: A Literature Review. International Conference on Elementary Education, 5(1), 308-314. Retrieved from http://proceedings2.upi.edu/index.php/icee/article/view/3119
Copyright (c) 2023 Hilma Syahida, Laksmi Dewi
This work is licensed under a Creative Commons Attribution 4.0 International License.